Humanities Kansas connects communities with history, traditions, and ideas to strengthen civic life.
We thank HK for underwriting our efforts to record our history of the how the Starbuck Fire affected our lives, our community and our future.
Visit https://kansashumanities.org for further information.  HK is the only organization dedicated to creating, supporting, and promoting the humanities as a resource for all Kansans.
The sound recordings are videos and sound files library staff and volunteers recorded to remember the Starbuck fire that struck the Clark and Comanche County  area in early 2017.  This page is a work in progress and we are adding new videos and information periodically, so please check back often.
Millie Fudge, Clark County Emergency Preparedness, gave a talk on the Starbuck Fire on September 19, 2017 at the Ashland City Library.  The video above is a recording of this presentation.
Bill Barby


Rancher
Audio Interview
Interview Transcript
Jerome Berryman

Local Business Owner 
Audio Interview
Interview Transcript
Jenny Betschart
Rancher
Audio Interview Part One
Audio Interview Part Two
Interview Transcript
Lindsey Bird
Clark County Dispatcher
Audio Interview
Interview Transcript

David Clawson
Rancher
Audio Interview 
Interview Transcript
Ann Daily
Food Service
Audio Interview
Interview Transcript
Jim Daily
Rancher/
County Commissioner
Audio Interview
Interview Transcript
Faye Ediger
Farm Worker
Audio Interview
Interview Transcript
Susan Edmonston
Newspaper Editor
Narrative
Adam Elliott
District Soil Conservationist
Audio Interview
Interview Transcript
Steve Elmore
United Telephone Agent
Audio Interview
Interview Transcript
Millie Fudge
Clark County Emergency Preparedness Director
Audio Interview
Interview Transcript
Greg Gardiner
Rancher
Audio Interview
Interview Transcript
Mark Gardiner
Rancher
Audio Interview
Interview Transcript
Greg and Austin Goodnight
Rancher and son
Audio Interview
Interview Transcript
Brandon Grigsby
Banker/Rancher
Audio Interview
Interview Transcript
Sarah Hamil
Food Service
Audio Interview 
Interview Transcript

Mike Harden
Farmer/Rancher
Audio Interview
Interview Transcript
Paul Harden
Farmer/Rancher
Audio Interview
Interview Transcript
Kim and Stan Hazen
Home Lumber Office Manager
Audio Interview
Transcript Interview
Kelly and Steve Hazen
Farmer/Rancher
Audio Interview
Transcript Interview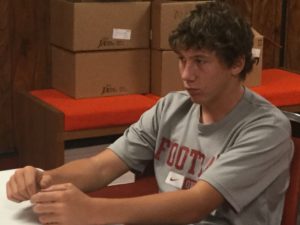 Melanie Hink
Audio Interview
Interview Transcript
Vernon Howell
Audio Interview
Howell Transcript 
John and Diane Humphreys
Business owners
Audio Interview
Interview Transcript

Jacque Johnson
Farmer/Rancher
Audio Interview
Interview Transcript
Mary Kaltenbach
Rancher
Audio Interview
Interview Transcript
Jeff Kay
Business Owner
Audio Interview
Interview Transcript
Dr. John Kellenberger
Dr. of Veterinary Medicine
Audio Interview
Interview Transcript
John Ketron
Clark County Sheriff
Audio Interview
Interview Transcript
Larry Konrade
Accountant, co-owner C.S. Slaton
Audio Interview
Interview Transcript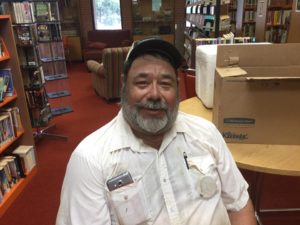 George Krier

Rancher/Firefighter
Audio Interview
Interview Transcript
Loree Krier
Bank Employer/Photographer
Audio Interview
Interview Transcript
Pat Krier
John and Kristi Lee
Retired Teacher and City Clerk
Audio Interview
Interview Transcript
Karen Maris
Retired
Audio Interview
Interview Transcript
Mike and Denice McCarty
Farmer/Rancher
Audio Interview
Interview Transcript
Travis and Kelly McCarty
Veterinary/Rancher and Accountant
Audio Interview
Interview Transcript
Dustin McPhail
Chiropractor
Audio Interview
Interview Transcript
Marge and Max Meuli
Farmer/Ranchers
Audio Interview
Interview Transcript
Joel Milford
Wildlife Artist
Audio Interview
Interview Transcript
Impact Statement
Brenda Mills
Caterer and B&B Owner
Audio Interview
Interview transcript
Becky Mishler
Clark County Clerk
Audio Interview
Interview Transcript

Bill Neier
Banker/Firefighter
Audio Interview
Interview Transcript
Steven and Anna Nicodemus
Firefighter and Pharmacy Assistant
Audio Interview
Interview Transcript
Deb and Dan Pearce
EMS and Firefighter
Audio Interview
Interview Transcript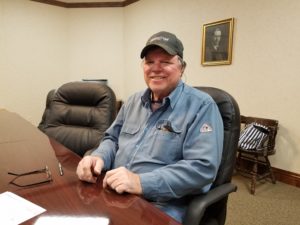 D.Y. Perkins and Nina Glasser
Business Owners
Audio Interview
Interview Transcript
Rick & Terry Pike
Cowhand and Insurance Agent
Audio Interview
Interview Transcript
Scott Pike
CSI Manager
Audio Interview
Interview Transcript
David Redger
Clark County Fire Chief
Audio Interview
Interview Transcript
Diana Redger
Crop Agent/Historian
Audio Interview
Interview Transcript
Linda Redger
Postal Clerk
Audio Interview
Interview Transcript
Dan and Kay Rich
Farmer/Ranchers
Audio Interview
Interview Transcript
Bessie Seacat
Retired Farm Wife
Audio Interview
Interview Transcript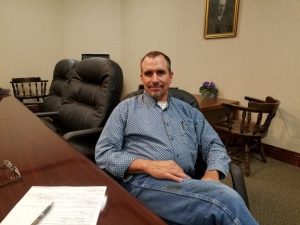 Dr. Randall Spare
Dr. of Veterinary Medicine
Audio Interview
Interview Transcript
Krista Tonne
Audio Interview
Interview Transcript
Debbie Trahern
Deputy Appraiser
Audio Interview
Interview Transcript
Scott Tune 
Englewood Firefighter
Audio Interview
Interview transcript

Gary Vashus
Retired Cowboy
Audio Interview
Interview Transcript

Haley Walker
School Counselor/Ranch Wife
Audio Interview
Audio Transcript
Kit Walker
Rancher
Audio Interview  1
Audio Interview  2
Interview Transcript
USD 220 School Superintendent
Audio Interview 
Interview Transcript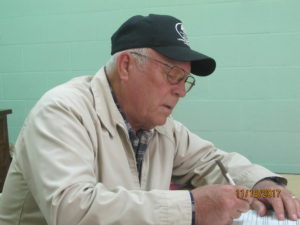 Olin Whisenhunt (with Woodruff)
Audio Interview
Interview Transcript
Don White
Mechanic/Firefighter
Audio Interview
Interview Transcript

Jessika Wilkinson
Dental Office Insurance Filer
Audio Interview 1
Audio Interview 2
Audio Interview 3
Interview Transcript
Matt and Janae Wilson, Gibson girls
Lineman, nurse
Audio Interview pt 1
Audio Interview pt 2
Interview Transcript, pts 1 & 2
Carol Woodruff
Retired Elevator Manager
Audio Interview
Interview Transcript
Eugene Woodruff (with Whisenhunt)
Retired Englewood Fire Chief
Cowhand
Audio Interview
Interview Transcript
Frank York
Banker/Farmer and Rancher
Audio Interview
Interview Transcript
Patty Young
Children's Correspondence
Letters from All Over